Description
Cornelian Earrings with dana work in Silver.
Material: 92.5 Silver
weight: 36 grams.
length : 7 Cm
Width : 3.5 Cm
Fastening: Stud
Care : Keep away from fragrance and moisture. Sliver naturally get tarnish over the period of time. It can be cleaned with soft cloth and warm soapy water.
Note: All our jewellery is handcrafted, variations may occur in piece.
Related products
Sold Out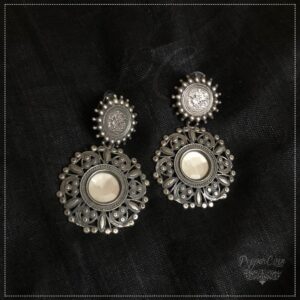 Silver Earrings with Glass work. Weight: 25.4 Grams Width: 3.5 cm Length: 6 cm Fastening: Stud Colors of the Glass: White Material:
Silver Earrings with Glass work. Weight: 25.4 Grams Width: 3.5 cm Length: 6 cm Fastening: Stud Colors of the Glass: White Material: